What is Google Search Console?
Google Search Console (GSC) is a free tool that helps people monitor, maintain, and troubleshoot their website in Google Search results (according to Google). If you're new to using Google's tools the GSC interface might look intimidating.
Not knowing where to start is normal! The good news: you don't have to be an expert to use the GSC Performance report. Even Google'S SEO team has questions for Google! We need to build our understanding brick-by-brick, so in this blog, we'll cover:
Don't have GSC set up yet? No problem. You don't need to be a coder but you will need to copy & paste some code, so stay calm. We're newbies but we've got strength in numbers. Reach out to our LinkedIn Group with any questions.
What is the GSC Performance Report?
The Google Search Console Performance Report shows important metrics divided into two distinct Overview pages called 'Search Results', and 'Discover'. The GSC Search Results overview displays important information related to the Search Engine Result Page (SERP) such as Total Clicks, Total Impressions, Average CTR (Click Through Rate), and Average Position. This information can be viewed and filtered by Queries, Pages, Countries, Devices, Search Appearance, and Dates for more granular analysis. Google's Discover overview, the secondary option, is similar except it does not address Queries, Pages, Devices. "Google Discover is a feed curated by Google to deliver articles and videos on mobile devices. The content delivered to users is personalized through searches and related stories." as described by 321webmarketing.
How do I set up Google Search Console?
Setting up Google Search Console only takes a few steps & some patience. Once you sign in to Search Console with your Google Account you only need to request verification & wait 24 – 48 hours. Visit our blog on Setting Up Google Search Console with all the steps included.
With your GSC account set up, I want you to look at ONE report. I promise we'll keep it simple! You can learn so much with the Performance Report.
How to View Your Performance Report in Google Search Console
Click Overview (if you have multiple accounts choose the correct one from the dropdown list)

Under

Overview

/

Performance click OPEN REPORT

(highlighted blue)

Look! You can now see how people found you on Google!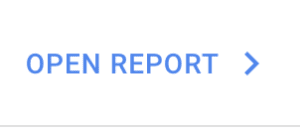 Making Insights – What does this information tell me?
From here we can now gain some insights. Did people see my website on Google? Did they click? The Performance graph visualizes your data for your understanding. Plus you can easily change the date range to look back days, weeks, & months.
Google Search Console includes historical data from
before
you set up your account.
Travel back in time to gain insights!
Start by asking basic questions!
Look at your performance report & ask yourself:
What days of the week do people visit my website?

What Queries lead people to click on my website?

What Queries

didn't

lead people to click on my website?
Not too hard right? But think about what it tells you:
Your audience doesn't use your website on the weekends –

Maybe you should focus on releasing new content during the week.

People

did

click your website when they searched "Tips for Cleaning Cars" –

Cool! People must think your website can help them!

People

did not click on my website when they searched "Car Cleaning Near Me"

– Oh… Maybe they were looking for a car wash. I should distinguish myself from that business type!
See what I mean? Even no info is telling you something! From there you can start to build a strategy aligned with your business goals. We'll dive into more in the next blog, but you're starting to see the big picture.
You can now open your Google Search Console & read the performance report to start making insights about your website.