The Client
Industry: B2B SaaS
Project Type:

SEO Consulting

Last Funding Type: Series A
Headquarters: San Francisco
Number of Employees: 51-100
Team Locations: Western US and Australia
Weekly Organic Traffic: ~5K
The Opportunity
Blog posts are a great authoritative driver of organic non-branded traffic. The MacMillan Search team has developed a process to regularly review current resources, strengthen keyword positions, and anticipate the questions of prospective customers. The result was content that delivered as a ranking mechanism, authority opportunity and stage in the customer journey, without any duplication of effort.
The Process
MacMillan Search implemented methods to monitor and analyze search results, using our findings to provide optimization and implementation direction to the in-house team for both new and existing content. Weaving an SEO strategy into internal processes is key to ranking for high-intent keywords, and our process included:
Refining existing content – A clear opportunity for growth was content that had intent-driven keywords within striking distance. With some refinements, we were able to increase visibility, position, and ultimately traffic. Tactics included:

Regular analysis of the winning and losing content
Optimizing to improve the click-through rate for the bottom-of-the-first-page search results
Improving signals for search results on the second page and beyond
Reviewing featured snippets for opportunities to optimize the results
Creating blog content that better answered the non-branded queries driving clicks to product pages

New content creation – Our client is a thought leader in their space – maintaining this position required new, high quality content at consistent intervals. Our content direction pulled from the main and peripheral subject matter from the:

Industries and teams they serve
Products and their features

Empowering the in-house teams – We supported content and development teams by answering implementation questions and clarifying SEO concepts. We did this using a shared Slack channel and hosting office hours.

Ready to start your journey to improved SEO?
We guarantee complete transparency, ensuring that you're always in the know about your progress.
The Results
With MacMillan Search processes integrated, and an informed in-house team executing, blog traffic grew significantly. Highlights include:
Blog content present in 1.98M search results (+498% year-over-year and +36% quarter-over-quarter)
Increased visibility leading to 22K clicks (+446% year-over-year and +44% quarter-over-quarter)
Increased traffic leading to free trail sign-ups (+271% YoY)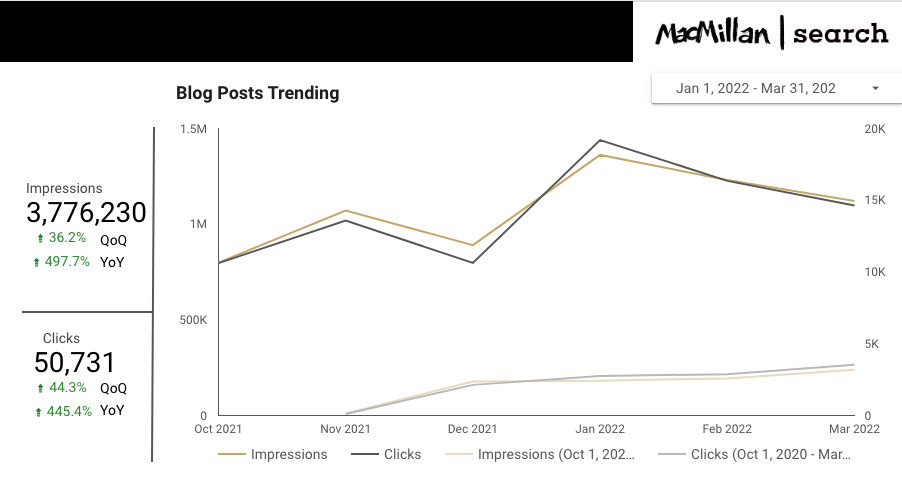 Don't Wait
Don't let your website linger in obscurity. 
Limited Availability
Act quickly, as our availability is limited. We only take on a certain number of clients each month to ensure that each one receives the attention they deserve. Take the first step toward improved SEO today.