The Client
Industry:

Consulting

,

Training

&

Linking Building

Project Type: SEO Engagement
Last Funding Type: Private Equity
Headquarters: Texas
Number of Employees: ~400
Team Locations: US
Weekly Organic Traffic: ~5K
The Opportunity
Our client's goal was to increase organic traffic with new content based on keywords related to their available services.
Our keyword research was based on the client's available services, related topics, and competitors within the same categories. Our internal documentation was formatted so every keyword was associated with a specific product page.
Benefits of associating keywords with their related product category included:
convenient filtering and tracking of opportunities
a mindset focused on topical relevance and conversions
obvious internal link & CTA opportunities
The resulting content briefs were designed to:
target keywords determined as relevant to the client's services
strengthen product pages with internal links from topically relevant content
create helpful content with the potential to rank
The Process
Keyword research was performed after our kick-off meeting (mid-July 2021)
We began creating content briefs by the end of July

Refinements were being actioned by the middle of Q3 2021
New content was being published by end of Q3 2021

Through Q3 and Q4 our content team…

Refined 20 pieces of existing blog content (with content refinement briefs)
Supported 46 new pieces of blog content (with new content briefs)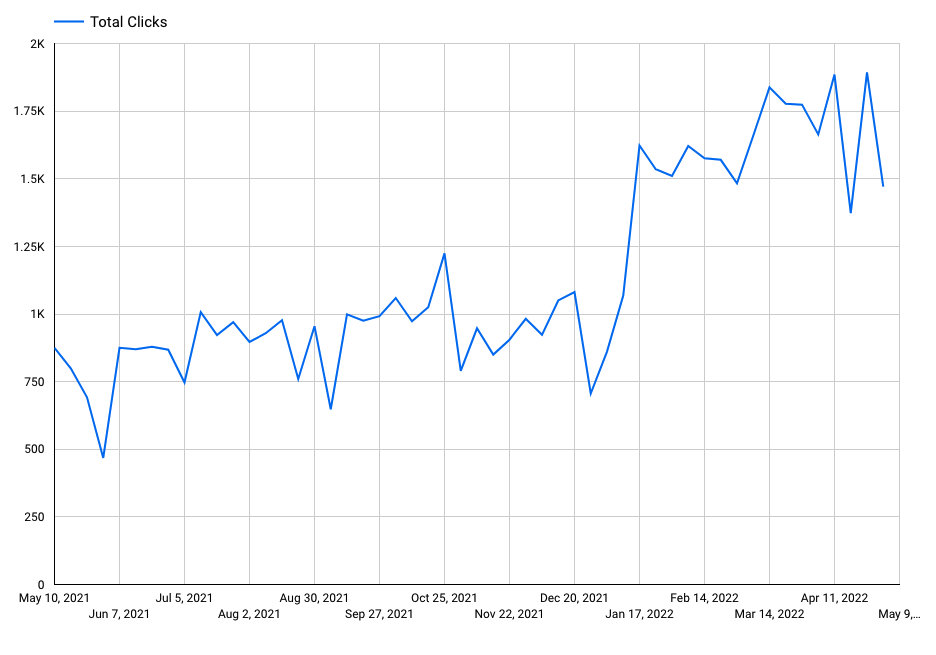 Ready to start your journey to improved SEO?
We guarantee complete transparency, ensuring that you're always in the know about your progress.
The Results:
Traffic:
Organic traffic nearly doubled. Below is a comparison of organic clicks for Q1 2022 vs 2021.

Conversions:
Comparing conversions for Q4 YoY:
Conversions increased (102%)

Conversion Rate increased (30%)

Sessions increased (55%)

New sessions increased (3%)
New users increased (60%)

Bounce Rate decreased (6%)
Average session duration increased (5%)

Don't Wait
Don't let your website linger in obscurity. 
Limited Availability
Act quickly, as our availability is limited. We only take on a certain number of clients each month to ensure that each one receives the attention they deserve. Take the first step toward improved SEO today.