In January of 2020 we had the opportunity to collaborate with Kopano photography for a 10-Minute SEO Audit. Take a look at what we discovered!
Top Priorities
Set up Google My Business so you can get regional map results and trigger knowledge panel type results.
Set up Google Search Console so you can measure success and dig deeper into what keywords are performing.
Switch over to https. Google is given priority to secure pages and getting this set up could help with rankings and traffic. This type of change should be explored with a developer since the steps could prove confusing for someone who doesn't deal with this type of work daily.
Content Opportunities
There are currently 4 metadata issues.
From Moz: These issues concern meta information, such as page titles and descriptions. Meta issues impact how search engines process your pages and display them in results. Meta issues may not be critical, but resolving them is often beneficial.
In an ideal world fixing these would be great but since budgets and but none of the issues set off a red flag in our experience. We would suggest focusing efforts on creating dedicated pages about your main service offerings and content answering the common questions related to these main service offerings.
For example, you could create a service offering page related to 360 photography. It currently has 200 monthly searches in Canada and little to no competition. The current top page for this term is http://www.360homephoto.com/ (this page is also not secure, see Http, which could work to your advantage once you update to https). We would suggest reviewing this page for content inspiration and provide the same level or better of detail about your service offering.
Next, we would suggest you find the questions being asked about this subject and develop content that answers these questions. A great place to start is the people also ask section. You can increase the number of results by exploring the dropdowns.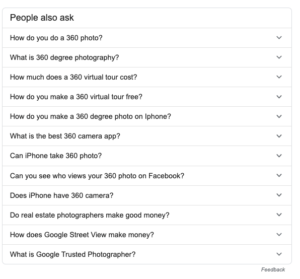 Almost all of these questions would make great blog posts. We would also recommend reaching out to existing or past clients to get their input on how they would answer this question. This does 2 things, it provides content and it also engages a person who could backlink or share on their social media, increasing your reach.
Once you have created a blog post, run the main subject through Google Trends to get an idea of its peaks in popularity. Use the peaks as a basis for when you should push it through social media. A social media push increases the likelihood of it being shared outside of social media which increases authority through backlinks.