At the most recent SEO Brunch on July 27, 2020, we performed a 10-minute SEO audit on Digital Nova Scotia member Hanatech. Here are the results of the audit!
Avoid chaining redirects, conflicting messages, and listing insecure pages when you have a secure site.
Why?
Your site is secure and Google favors secure sites in the search results.
How?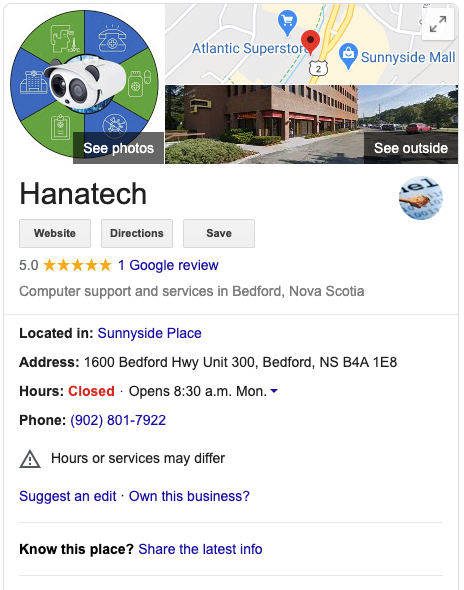 Although it 301 redirects, the redirect is chaining (more than one redirect to get to the final URL, chaining redirects may inflict damage on the user experience, slowing down the page loading speeds). This URL should be updated to the final URL 
https://hanatech.ca/
. A redirect rule should also be set up so that anyone who accessing 
http://www.hanatech.ca/
 gets a redirect directly in one step to 
https://hanatech.ca/
 to avoid the chaining.
URLs, UTMs, & Canonicals
When you update the Google My Business URL, plug in this URL above with the UTM. As you can see, it's got your URL part at the beginning and then you've got your tracking parameters afterward.
Make sure your canonical is set. Your canonical URL says to Google that this is the URL you want them to focus on. So if I was to change this part to the one with the tracking parameter, and then do a search for canonical as well. Everything's okay. This way Google is not going to think that this URL with the tracking parameters at the end is a duplicate of it. It's a way of segmenting that traffic.
Removing HTTP XML SiteMap
If the Shop isn't ready, hide it
Why?
Poor user experience is an indication to ignore your content. Focus Google's attention on the pages that provide value to increase the likelihood of qualified organic traffic.
How?
You currently rank for /shopping/ based URLs on the second page for a large number of product-related queries but these pages look far from completed. Until these pages are ready to be found do not make them discoverable. To hide these from Google search first remove the XML sitemap:
Temporarily removal the /shopping/ URLs from Googles index in GSC under Index – > Removals
remove the link from the navigation