Join us for a 10-Minute SEO Audit with the really cool team at DeepSense. Although their website is really cool there's a few simple things they can do to ensure the right people find it. Check out the video below to see the live SEO audit & read the notes for details you might want to know too.
Set up Google Search Console (GSC)
– Although there are other search engines, Google is currently driving 93% of your search traffic so we suggest focusing on them. By having GSC set up you can view details on which keywords in google are driving your traffic. This information is useful for determining the reasoning behind spikes in search result traffic as well as finding opportunities to increase traffic but determining which keywords are within striking distance.
We would suggest using the Google Analytics verification method based on your current set up. Anyone with "edit" rights in this Analytics web property can use this verification method.
Once completed we suggest Configuring Search Console data in Analytics
Improve Your Home Page Meta Data
– Other the last year your home page was responsible for 64% of your traffic. This traffic is mainly driven by branded search terms (deepsense, deep sense). The metadata is your ad copy from within the search results.  Your current results look like:

Update the Meta Description

 – 

The meta description is an HTML attribute that provides a brief summary of a web page.

 There currently isn't one that is defined, so Google uses your "WHO WE ARE" section to populate this data. Since it is getting truncated we suggest refining this text to limit this and get some key points about your company displayed in these types of results. We suggest 

Artificial intelligence, machine learning & the better use of data for collaborative projects between ocean economy businesses & academic researchers.

With these 2 changes in place, your search results could look like

Set Up Google My Business
Set up your Google My Business so you can get richer results on the right-hand side of knowledge panel results. An example of a knowledge panel results: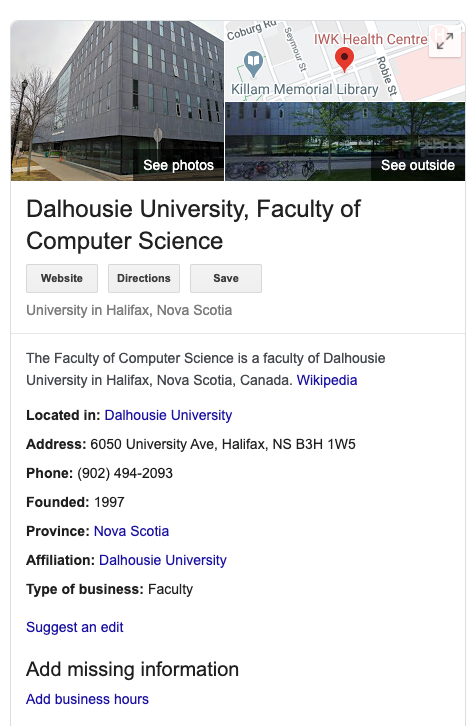 _______
Want to learn more? 
Join us for the next 
SEO Brunch event
! Let us know what you would like to dive into at the next SEO Brunch via 
twitter
 using #seobrunch & subscribe to our 
Youtube
.