Follow along to learn how you can improve a photography website with some simple tasks. Dean's website is already visually stunning, but let's see what SEO opportunities can help it get the attention it deserves. Watch the video to see us walk through it live, and/or read the blog for details.
Home Page Opportunities
Include content on your Home page (like we see in your Google My Business description) wherever you like on the page. Google can't read the images to grasp the website's details and this text will help them better understand.
Also, within the body of text, you should link to different parts of your portfolios or anything you want to draw attention to. These links will help show relevancy, pass authority, and keep visitors engaged.
Metadata Issues
Consider using a tool like https://technicalseo.com/tools/google-serp-simulator/. It's a great way to draft metadata for a specific page and make sure it's A+ for the Google bots. Here's an example of your current Title & Meta Description and how it populates in Google.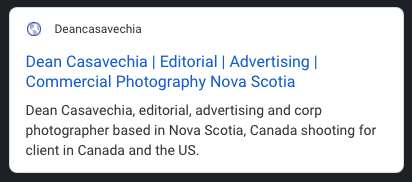 We'll provide our modified example below when we discuss targeting industries.
Title Too Long:
Some titles are too long, which means they get truncated and are less likely to convert. Draft up new ones with the 
serp-simulator
.
Title Too Short:
Same sort of thing. Too short is also no good. A SERP simulator lets you fine-tune these descriptors before editing your website. Treat this as a step by step process.
Missing Canonical Tags:
"Each page on your site should have a canonical tag with a canonical URL for search engines to know which content should be shown to searchers and prevent against duplicate content issues.
Check the HTML Head of your page to ensure it contains a string of code which looks like this: <link rel="canonical" href="http://example.com/blog" />"
Missing Description:
Descriptions are one of the most important factors for driving factors, even if they don't directly relate to your ranking. A compelling description (that is accurate) drives traffic and decreases the bounce rate. Use the serp-simulator to draft descriptions for the pages with no descriptions.
Description Too Short:
Content Opportunities
Duplicate Content
Duplicate Titles:
Make each title unique with a structured system for titles that makes them specific to their page and subcategories.
Corporate photographer Dean Casavechia ,Halifax, Nova Scotia
to
Office 14 | Corporate Portfolio | Dean Casavechia Photography
The Blog: 
is not secure: (http) and should be updated to be secure (https)
The URL should be also added to Google Search Console for future troubleshooting. Adding the whole domain as a domain property is another option.
The link from the main site is a redirect and should be updated to be the proper URL
New Industry Pages/Portfolio Sections:
The current 2 keywords driving the most traffic are nova scotia commercial photographer and nova scotia landscape photography. We would suggest breaking out these as portfolio sections. We would also recommend a small chunk of text for each section. You only need to look at your visibility on Google Search Console to see the opportunities.
A page dedicated to Agricultural Clients.
A page dedicated to Commercial Clients
A page dedicated to Lifestyle Advertising
etc, etc
Here's an example of a page with good metadata targeting a specific Industry.

Another thing we noticed is /thumbs URL for these pages that is essentially the same as without /thumbs. We would recommend either removing these or using the canonical tag to point to the URL minus the /thumbs.
Some Google Analysis Takeaways (as of late March):
Slightly more users on desktop (51.34%) vs mobile (46.52%)

Site ranks #1 for the query "Agricultural Photographer" in Canada

Site ranks #3 for the query "Editorial Photographer" in Nova Scotia
Clicks Vs Impressions for last 12 months (as of late March):
Dean Casavechia: 17 clicks/25 impressions

Nova Scotia Landscape Photography: 2 clicks/331 impressions

Halifax Photographer: 2 clicks/85 impressions
Mobile Usability Issues:
Clickable elements too close together: this looks like an issue with the social media icons at the bottom of the page. The placement is good, but Google recommends a button be 48×48 pixels. Currently, these clickable-icons are 20×20 pixels.

Content wider than screen: this is due to the photos. Google says "This happens when pages use absolute values in CSS declarations or use images designed to look best at a specific browser width (such as 980px). To fix this error, make sure the pages use relative width and position values for CSS elements and make sure images can scale as well. Read more in Size Content to Viewport."
Critical Crawl Errors
4XX Errors
We're seeing 75 unique 404 errors. It looks like an index issue because 73 out of 75 are redirects from HTTP to HTTPS where neither page exists. Outside those, a couple of errors occurred on the page https://deancasavechia.com/Stories/4H-Woodsmen/4 linking to https://deancasavechia.com/Stories/5 and https://www.deancasavechia.com/Stories/5. These errors are not visible on the page itself or in the HTML – they should be found and corrected within your CMS.
72 redirects to broken link:
The large majority of these are links to a bigger version of the photo on the blog, this option is unnecessary and can be turned off in WordPress.
Some Tools Mentioned:
_______